As more stories regarding burgling and other misfortune happenings make the news, people are becoming concerned about their home safeties. Lately, internet of things is having a significant impact on the home securities with IoT enabled smart devices, allowing people to control their locks and security camera all from their smartphones. Well, definitely our IoT Professionals deserve a great round of applause for such great notions, outstanding efforts and giving us a peace of mind and comfort.
Initially, smart locks gained popularity back in 2016 where it offers a keyless entry via pin code or using your phone, offering a great amount of ease if you forget to take along your keys. But now with the integration of more connected devices and moreover, as people are becoming more aware of such developments, they are anxious to get their hands on the smart home security systems and what I believe that as the technology continues to progress, we will definitely see a massive drops in the number of troublesome activities in the near future.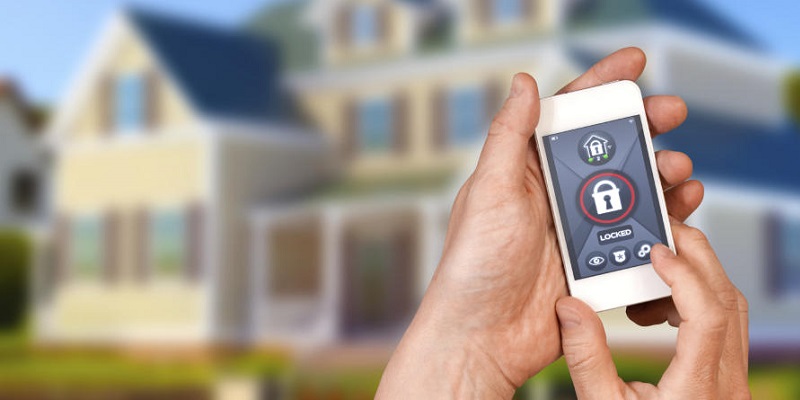 How does a smart security system work?
A smart home security system mainly enables the users to closely monitor each room and corners of the house. This can be done with the help of sensors that are installed all across the house to detect any changes or unusual happening, right from the smoke to the opening and closing of windows and doors. If the sensors sense any sort of unwanted changes, it will immediately notify the owner about the situation.
Additionally, the smart home security system encompasses a wireless security camera that is connected to your smartphone or tablet, thus allow you to watch the footage even when you are miles away.
Enhancement via sensors:
Different types of sensors are used that improves the capabilities of the smart home security system. Let's have a look at some of them.
• Motion Sensors:
As the name suggests, motion sensors are used to identify the presence of the intruder in the house, thus stand guard when you are away from home and alerts you if there is any movement in your house.
• Doorbell sensors:
These sensors allow you to see who is at your doorsteps. If you are alone at home and the sensors detect any stranger at the door, the amazing IoT technology will let you see on your smartphone.
• Door Contacts:
On positioning door contacts sensors, it will instantly send signals to the smart home control system if the door is opened and helps you to take quick action by calling someone if needed.
• Window Contacts:
Window contacts work in the same way as the door contact and send notifications straight to your smartphone.
• Glass Break Sensors:
These sensors respond instantaneously in case somebody tries to enter the house via breaking your glass window.
Wrapping up:
Considering the increasing robbery crime rates, smart home security systems is becoming essential to be installed and surely one magnificent invention by the dedicated IoT professionals, hence taking technology to the next levels. But this isn't the end!! The way it is progressing with every passing day; definitely, we will come to see some more of its miraculous processes in the future.