Listing down the household chores of the day, laundry is the word that makes me frown each time. The reason being, I do not like doing it at all, and I believe I am not the only one who confidently declares this. Am I right? Well, call me a lazy bee or a slacker, but I truly think of escaping the scene every time which obviously cannot be done. So, I definitely required an alternate solution to that. Something quick and easy!! And to no surprise, again I have reached to the point where I greatly appreciate the efforts of our IoT Professionals who are striving to get the best for all of us, changing our lifestyles, making it more luxurious and comfy.
Recalling some of the previous miraculous innovations by our experts, the list is pretty long including Smart Ovens, Smart Coffee Makers, Smart Dishwashers, Smart Thermostats, Smart Air Conditioners, Smart Dryers and more. And today we are here to review 'Smart Washing Machines' and let you know about all the necessary features it has to offer to its users.
So let us begin our journey!!
Smart Washing Machine: An Overview
Just like other smart devices, a smart washing machine works in a similar manner. It is capable of connecting to your smart home network and provides you with some really exciting features.
Benefitting from the smart technology, the smart washing machine can remotely be operated by using your smartphone or tablet which is achieved by installing a smart washing machine app. The machine can be scheduled in advance and be controlled from wherever you are, either on the road, getting late in the mall during shopping or sitting in your office, simply tap on your smartphone and instruct the smart washing machine to take over the laundry procedures.
Smart Washing Machine Features: What Can A Smart Washing Machine Do?
The smart washing machine is an ideal fit for your connected smart home. The Wi-Fi integration allows you to connect your machine to your smartphone which surely delivers pretty handy support for running your laundry procedures efficiently. You can remotely start your smart washing machine anytime, anywhere.
With massive advancements and the induction of the latest voice assistant capabilities, the smart washing machines are now compatible with voice control systems like Amazon Alexa, Google Assistant, and Bixby. Therefore, now you can also manage your laundry with the help of simple voice commands.
You can conveniently monitor your wash cycles via your smartphones.
Once the wash cycles are finished, you will be notified on your handset.
Referring towards different fabrics, you can download new wash cycle for a specific material. A smart approach to perfectly get your laundry done!!
The smart washing machines come with built-in sensors that allow the machine to determine how dirty are the clothes and then select the right amount of water and the detergents automatically to incur the best possible results.
Some models come with detergent dispensers and send an alert to your smartphone when your machine is low on soap. Moreover, it can also be set to automatically place an order on the Amazon store for buying more.
Talking about the incorporation of some more smart sensors, the machine will notify you when it is the time for its regular maintenance. Moreover, if it is damaged, you will be alerted to get it repaired.
Similar to other smart home devices, the smart washing machines can monitor the local consumption energy rates and automatically turns off during peak hours, thus saves you good amounts.
You may find some models featuring two different wash tubs that are capable of washing two different loads with different cycles and temperatures. Both wash tubs can be set to run at the same time.
Are Smart Washing Machines Safe?
Automated machines have usually been questioned by the people who like performing the complete task on their own. It is because they feel uncomfortable using such handy technologies. On the other hand, considering various features of the smart washing machines, I believe them to be much safer than the regular models. Have a look at the following observed situations:
The smart app instantly notifies you if there is some problem with your machine, either you are at home or away. This features definitely receives my thumbs up as using a regular machine, you will never get to know the state of your machine if any problem occurs while you leave the house for some time and you might end up with flooded room on your return.
The wash cycles are unable to start remotely if there is a lack of water supply or the door is not properly closed.
Are Smart Washing Machines Worth the Money You Pay?
While surveying the market, I have come across a wide range of smart washing machines holding different price tags. Initially, when these machines were introduced, they were pretty pricey, but now with the passage of time, you can find a smart washing machine with reasonable price. However, still, they are heavy on your pockets as compared to the non-smart washing machines.
Considering the worth of a smart washing machine, it significantly depends upon your lifestyle and of course how much you are comfortable with the remote access and its capabilities. However, if you are a technology lover and enjoy having quick controls in your hand, then a smart washing machine will be an ideal choice for you.
Smart Washing Machines: Our Best Pick
As mentioned earlier that numerous brands have launched their smart washing machines, you may get confused while looking for the right one for you. So, here we have compiled a list of the best ones that are available in the market. Check it out!!
SAMSUNG-Quickdrive-Ww80m645opm Washing-Machine
Kenmore Elite 41072 5.2 cu. ft. Front-Load Washer with Steam Treat
New LG FH4U2VCN8 Smart Spin Washing Machine
HOOVER DHL 1672D3 NFC Spin Washing Machine
SAMSUNG AddWash WW80K6414QW Washing Machine
SAMSUNG-Quickdrive-Ww80m645opm Washing-Machine: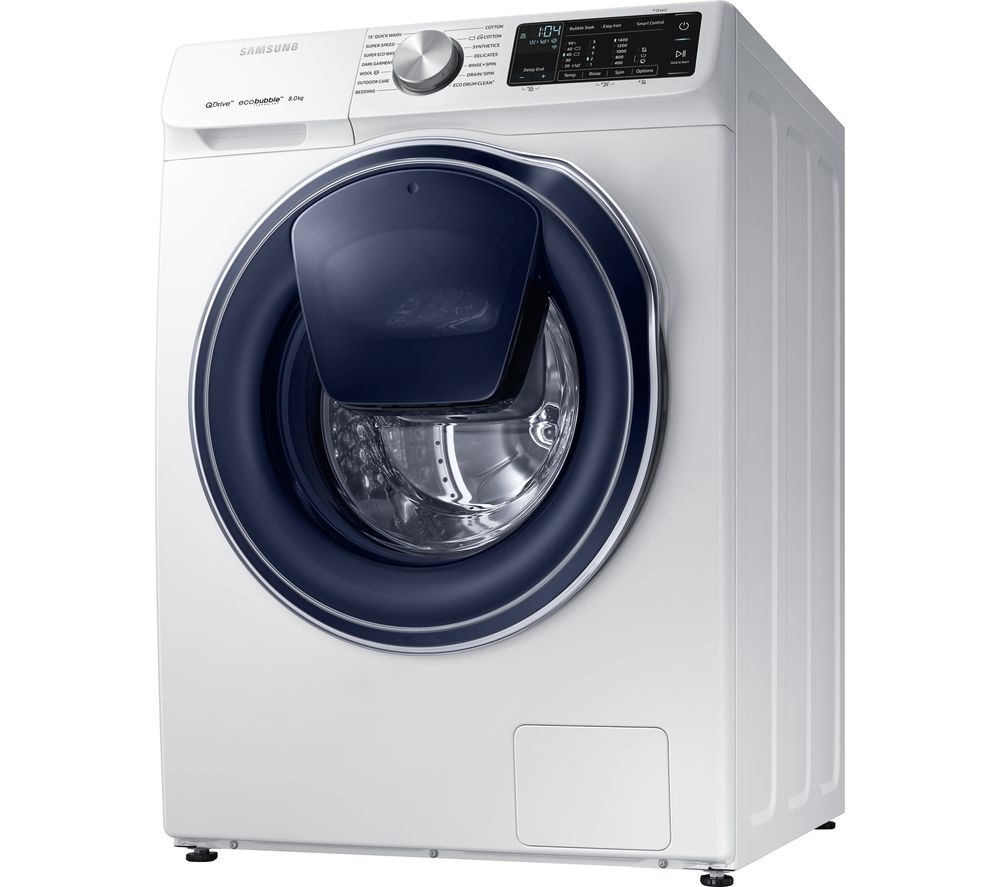 QuickDrive integrated technology has reduced the time up to almost 50% without compromising on the cleaning performance.
Supported Ecobubble technology, creates bubbles that penetrate your clothes faster through the mixing of water, detergent, and air, thus washing clothes at a cooler temperature. It saves not only the energy but also your money.
The machine comes with smart controls and lets you control all your laundry using your smartphone or tablet.
Incorporated with Digital Inverter Motor, the washing machine is entitled to deliver excellent performance.
Kenmore Elite 41072 can be started and managed directly through your smartphone or tablet using the Kenmore Smart App
Allows you to set schedules previous night or for the weekend hours.
Enables you to download 14 different pre-set wash cycles
The Cold Clean Cycle can wash your clothes with cold water as efficiently as the warm water, thus staying lighter on your electricity bills.
Notifies you in advance, when to clean the washer or replace the filter.
New LG FH4U2VCN8 Smart Spin Washing Machine:
The new LG FH4U2VCN8 comes with a large capacity which makes it the best selection for a busy household.
Equipped with TurboWash that cleans up the load quickly, thus minimizing the usage of the amount of water and energy
Compatible with the LG SmartThinQ app, you can control the LG FH4U2VCN8 from your smartphone, no matter where you are.
Receive alerts when the detergent tank is empty.
LG FH4U2VCN8 let you pause and add more items if you forgot to put it in the first place.
HOOVER DHL 1672D3 NFC Spin Washing Machine: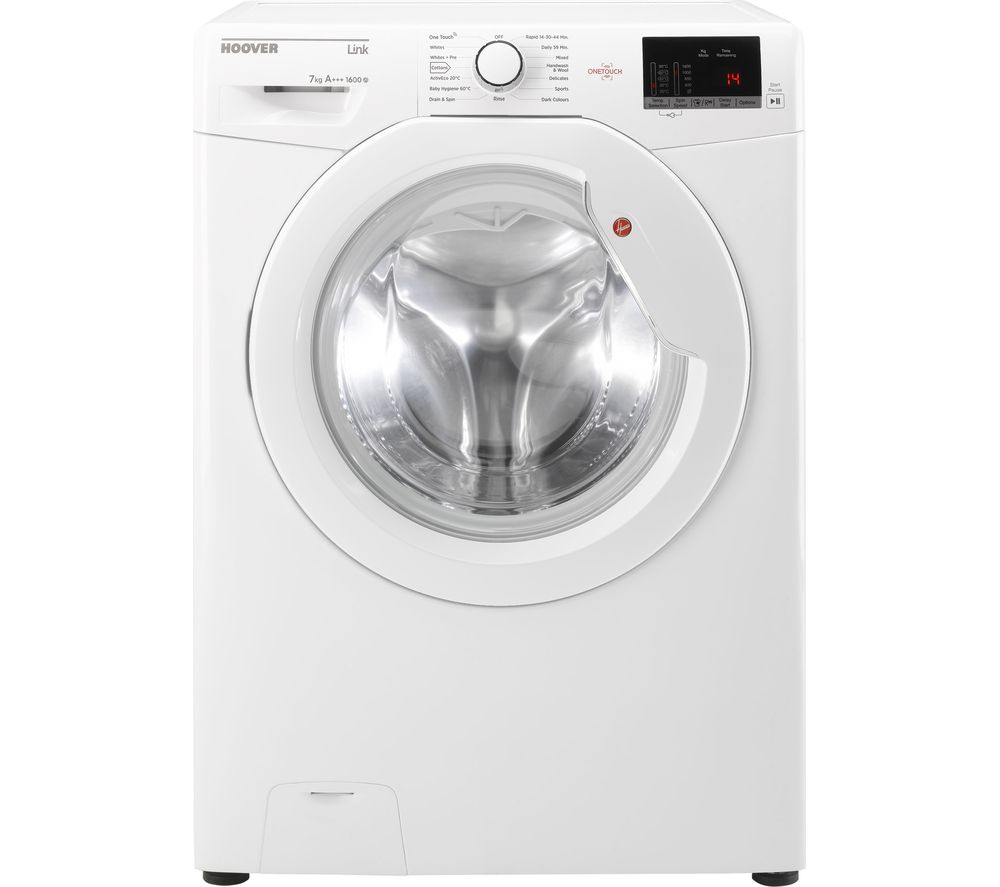 HOOVER DHL 1672D3 is categorized under smart washing machine that can be controlled from your phone using NFC. A simple one-touch control permits you to pair your NFC-enabled Android smartphone or tablet with the washing machine
It is extremely handy as all-in-one setting allows you to wash different fabrics as well as the colors in the same load
Armed with highly advanced sensors, the washing machine is capable of continually monitoring and adjusting the wash processes.
Incorporated with KG mode that saves energy by weighing the laundry and adjusts the cycle time, water and electricity consumption according to the size of your load.
SAMSUNG AddWash WW80K6414QW Washing Machine:
Integrated with a substantial range of programs, SAMSUNG AddWash WW80K6414QW comes with smart controls, fully supporting iOS and Android devices.
Built-in Wi-Fi allows you to select and activate a wash remotely.
The machine offers you the conveniences to start, stop, pause or merely monitor each stage of your wash via a smart app.
Alerts you when the cycles are completed
The machine is equipped with the latest technologies including Ecobubble and a brushless motor, offers you a magnificent washing experience.
The AddWash door can be used at any point during a wash program. All you have to do is to pause the program and it unlocks.
Eco wash program supports good electricity and water consumption
The machine is pretty quiet in use.
By using the app chat controls, you can now even talk to other Samsung Smart Home users and share your experiences.